Attorney General
Hector Balderas
New Mexico is unique in its history and in the diversity of its people. New Mexico is unique in that it has not amended protections for traditional people out of its constitution. Our Hispanic and Native American traditional communities are the lifeblood of this state, and part of my job as attorney general is to keep them healthy through protecting the rights recognized in law more than a century ago.
People generally think of civil rights as protecting against discrimination in terms of voting, employment or housing. While these issues are very important, I have a special duty to protect the civil rights of traditional communities too. New Mexico's constitution has specific protections for Hispanic and Native American populations in its bill of rights. It has been a priority for me to address situations that threaten our land-based, traditional and most vulnerable communities and their way of life.
Our state constitution protects inalienable rights, stating, "All persons are born equally free and have certain natural, inherent and inalienable rights, among which are the rights of enjoying and defending life and liberty, of acquiring, possessing and protecting property, and of seeking and obtaining safety and happiness." (N.M. Const. Art. II, §4 Inalienable rights) In the next article, our constitution names additional rights – rights protecting New Mexico's traditional Hispanics and Native American communities. "The rights, privileges and immunities, civil, political and religious guaranteed to the people of New Mexico by the Treaty of Guadalupe Hidalgo shall be preserved inviolate." (N.M. Const. Art. II, 5, Treaty of Guadalupe rights).
Treaty of Guadalupe Hidalgo Division
The Treaty was incorporated into New Mexico's State Constitution in 1912 and is part of the state's legal and cultural heritage. The OAG Treaty of Guadalupe Hidalgo Division, created in 2003, was established to review, oversee and address concerns relating to the provisions of the Treaty of Guadalupe Hidalgo that have not been implemented or observed in the spirit of Article 2, Section 5 of the Constitution of New Mexico.
The Treaty Division provides legal representation to the New Mexico Land Grant Council and the New Mexico Acequia Commission. The Division's vision is to take a proactive approach to finding solutions and responding to the evolving needs of the Land Grant Community by providing legal support, policy development and outreach. Land grant issues remain vexing in New Mexico and claims of new or continued ownership of ancestral lands are a top priority. The Treaty Division continues to pursue resolutions to the encroachment of historical common lands while seeking to protect, perpetuate and celebrate New Mexico's history and culture of land grants and acequias. The Division also works with the land grant council to identify legal assistance for land grants-mercedes that are political subdivisions of the State under §49 NMSA 1978 and reviews and responds to election contests filed with the treaty division in accordance with §49-1-7 NMSA 1978. Additionally, a top priority of the Treaty Division is to continue the development and building of the Office of the Attorneys General Land Grant-Merced and Acequía Historical Gallery & Repository.
Attorneys General & Land Grant-Merced and Acequia Historical Gallery and Repository
It is the intent of this web page to present historical and current legal information and links to legal documents that best assist in a basic understanding of New Mexico's Land Grant-Merced. In New Mexico, Merced is the Spanish term for Land Grants. Land Grant-Merced have existed well before New Mexico became a State in 1812. Information presented represents a snap shot of the historical and legal rights of New Mexico's settlement history, which includes Indian and Pueblo Nations, Spain, Mexico and the United States rural land based communities. While many of these communities continue today, they are the basic fabric of New Mexico's culture, heritage, values and stewardship. Their equity and legal rights as Americans has and continues to face challenges as America spread its desire to conquer the west.
Below, you will find summary information, which supports 24 Land Grant-Mercedes who meet the current (2022) New Mexico constitutional process that solidifies the recognition of Land Grants as Political Subdivisions of the State. You will also find indebt data presented in Carousel#1 such as the 2001 United State General Accounting Office Report to Congressional Requestors, which presents Definitions and List of Community Land Grants in New Mexico; data that reflects 295 original grants.
Carousel#1 also presents documents, studies, books, etc. that are available, our goal is to provide a one-stop-shop for your review, such as the following.
"Briefing on Land Grant-Merced History and Current Legislation" New Mexico Land Grant Council United States 115th Congress 2nd Session House of Representatives; House Bill 6487 introduced by Mr. Ben Rey Lujan
"Land Grant and Acequía Traditional Use Recognition and Consultation Act"

"Private Land Claims in the Southwest" Selections from J.J. Bowden's

"Somos Indigena: Ethnic Politics and Land Tenure in New Mexico, 1694-1965" Dr. Jacobo Baca

"Pueblo Sovereignty: Indian Land and Water in New Mexico and Texas" Ebright, Hendricks, Hughes

"Report to the New Mexico Attorney General" A Response to the GAO's 2004 Report Treaty of Guadalupe Hidalgo: Findings and Possible Options regarding Long Standing Community Land Grant Claims in New Mexico" New Mexico Land Grant Council

NOTE: This page does not contain the extensive body of knowledge of Land Grant-Mercedes and Acequias. We may provide a summary statement with reference made to one of three 'Carousels' or other resource links such as the State Archives, the University of New Mexico Land Grant Studies Program, NM State Legislature, etc. to review complete documents. Consistent with our pride in presenting the "Attorneys General & Land Grant-Merced and Acequia Historical Gallery and Repository"; we are committed to increase the content of this Digital Repository. We believe our current Contents presents a significant cornerstone of New Mexico's History, and an ongoing commitment embraced by the Office of the Attorney General Treaty of Guadalupe Hidalgo Division.
Attorneys General & Land Grant-Merced and Acequia Historical Gallery and Repository
Attorneys General 2022 - 1846
New Mexico Land Grant-Mercedes
OAG Treaty of Guadalupe Hidalgo Division Role & Resources
Land Grant & Acequia Recommended Materials
New Mexico Land Grant Council
New Mexico Land Grant Consejo
House Standing Committee: Rural Development, Land Grants And Cultural Affairs
New Mexico Legislative Interim Land Grant Committee
UNM Land Grant Institute & Land Grant Studies Program
New Mexico Acequia Commission
New Mexico Acequia Association
New Mexico House Standing Committee: Agriculture, Acequía and Water Resource
New Mexico Senate Standing Committee: Indian, Rural & Cultural Affairs
Document Carousel #1 New Mexico Land Grant – Merced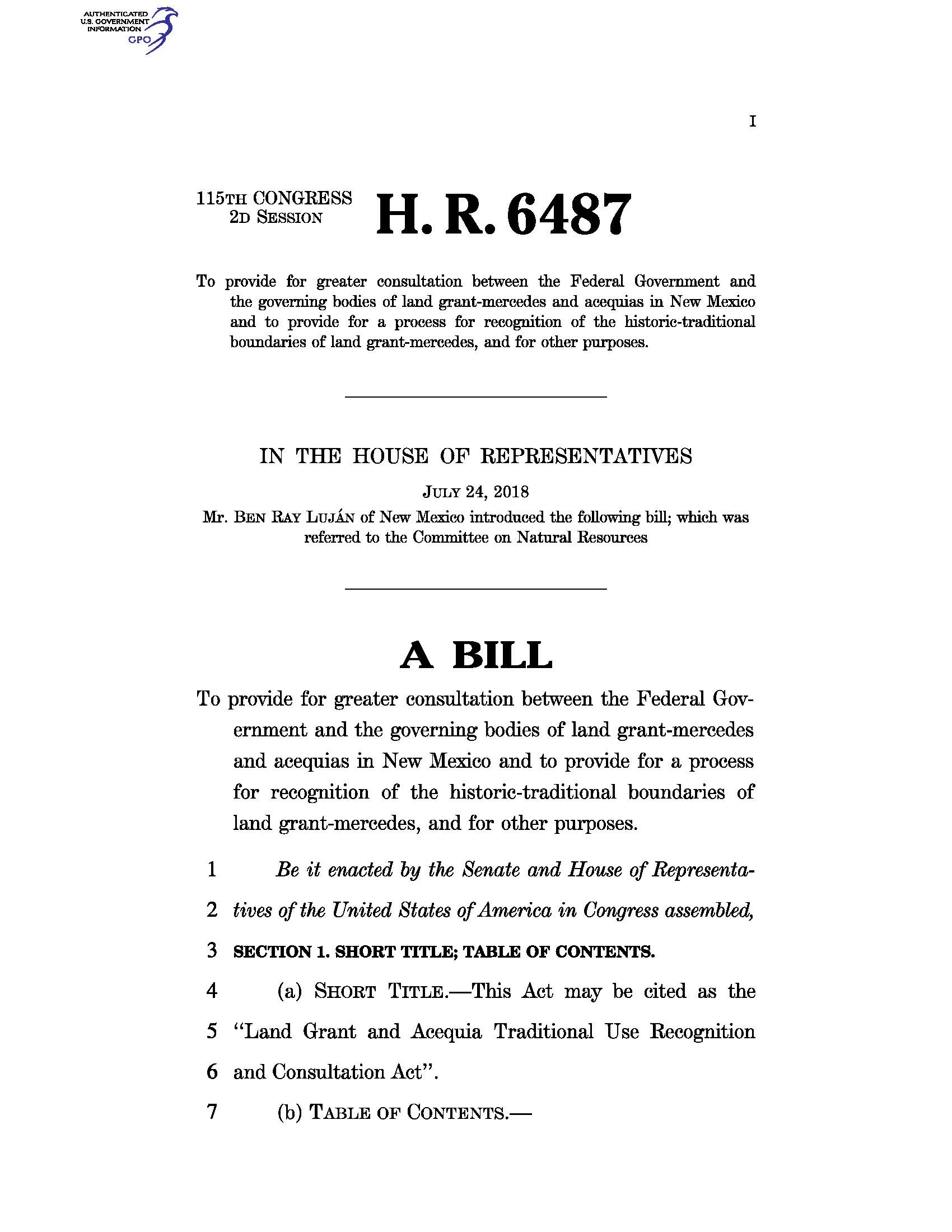 2018 Brief Land Grant-Merced History and Current Legislation NM Land Grant Council – July 2018
Background on H.R. 6487 –
Land Grant and Acequia Traditional Use Recognition Act – This Act is intended to provide for the recognition of traditional uses, on federally managed lands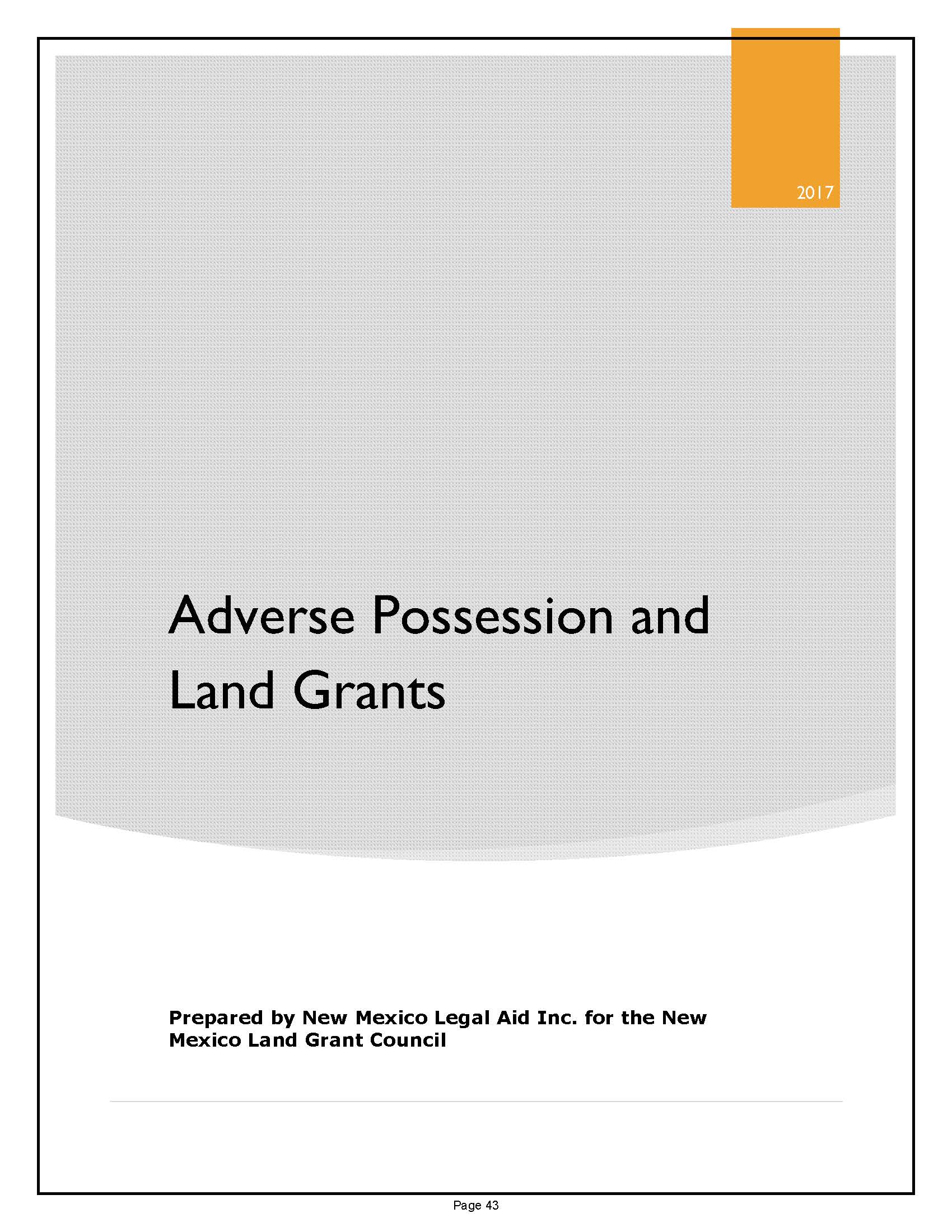 2017 Adverse Possession
Adverse possession is a method of acquiring title to real property by taking possession of a piece of property, and maintaining possession of it for a certain number of years without being sued or excluded by the owner
NM Statues Annotated 1978 Chapter 49 – Land Grants
New Mexico Chapter 72 Water Law Statutes & Authorities
New Mexico Legislative Leaders and Committees
NM Office of the State Engineer
NM Interstate Stream Commission
NM Energy, Minerals and Natural Resources Department
Middle Rio Grande Conservancy District
NMSU Water Science and Management Graduate Degree Program
Middle Rio Grande Water Advocates