Attorney General
Raúl Torrez
Parent/Guardian & Staff Level Resources
 Subjects of focus contained within these resources:
Cyber safety
Bully Prevention
Sexting
Online Safety (Including Grooming Precautions)
Online Gaming and Chat Room Safety Precautions
Knowledge of these subjects is vital to help Parents & Educational Staff more comfortably approach speaking with, and supporting their children as they are confronted with modern dilemmas.
This knowledge base provides strategy and empowerment through information and awareness, in-turn enabling the guidance of our youth to safer online and societal experiences.
All of the resources available on this site are tailored to particular age groups.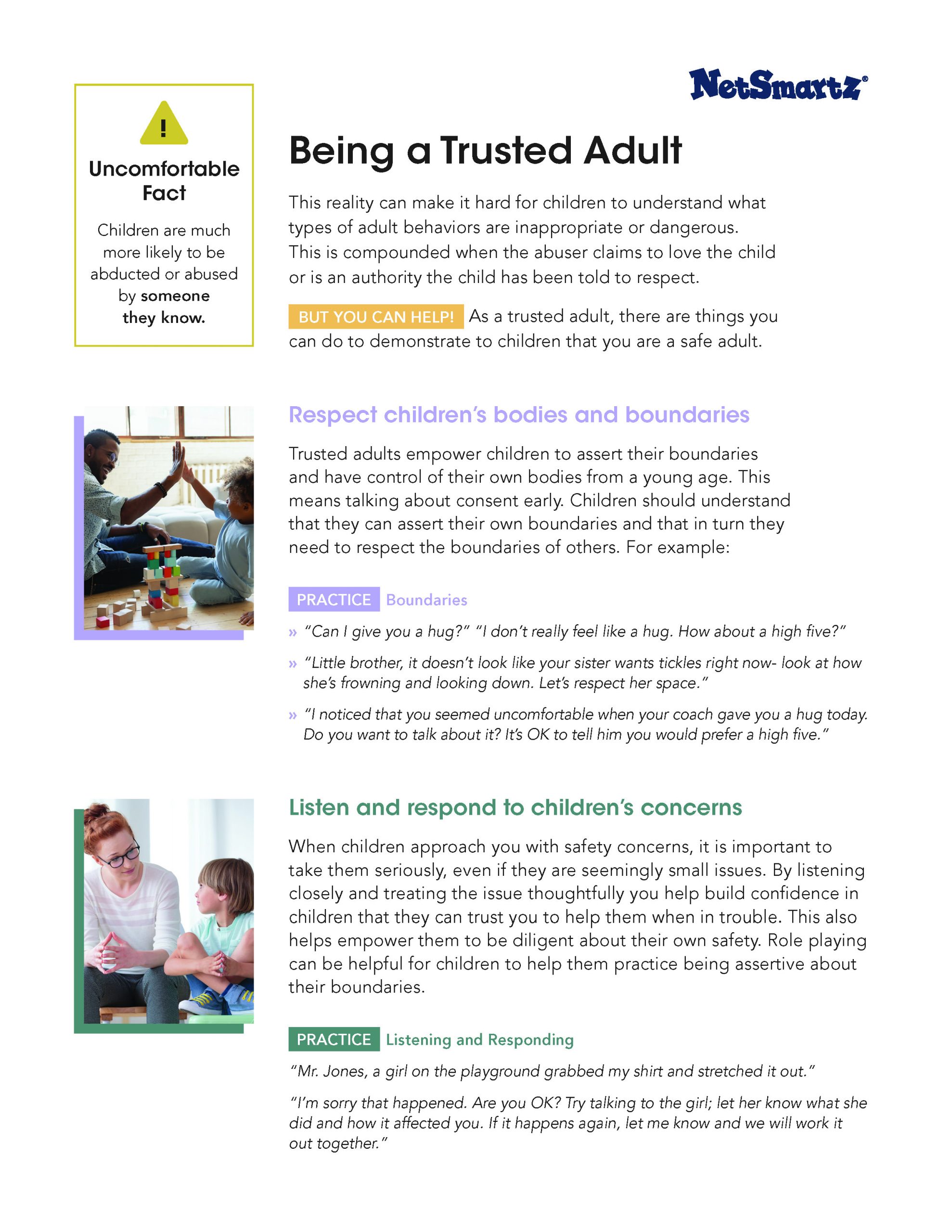 Being a Trusted Adult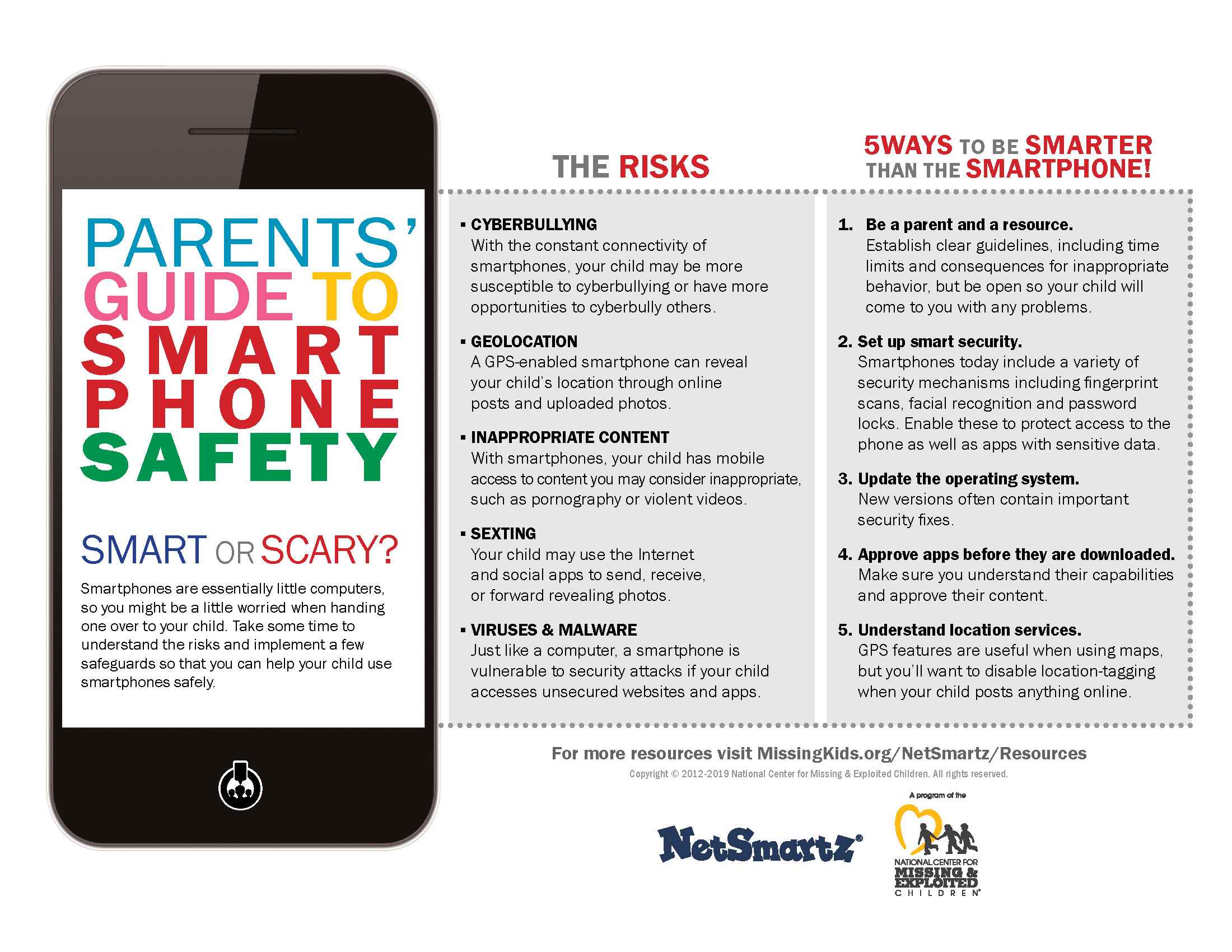 Parents' Guide to Smartphone Safety
The Risks and 5 Ways to be Smarter than the Smartphone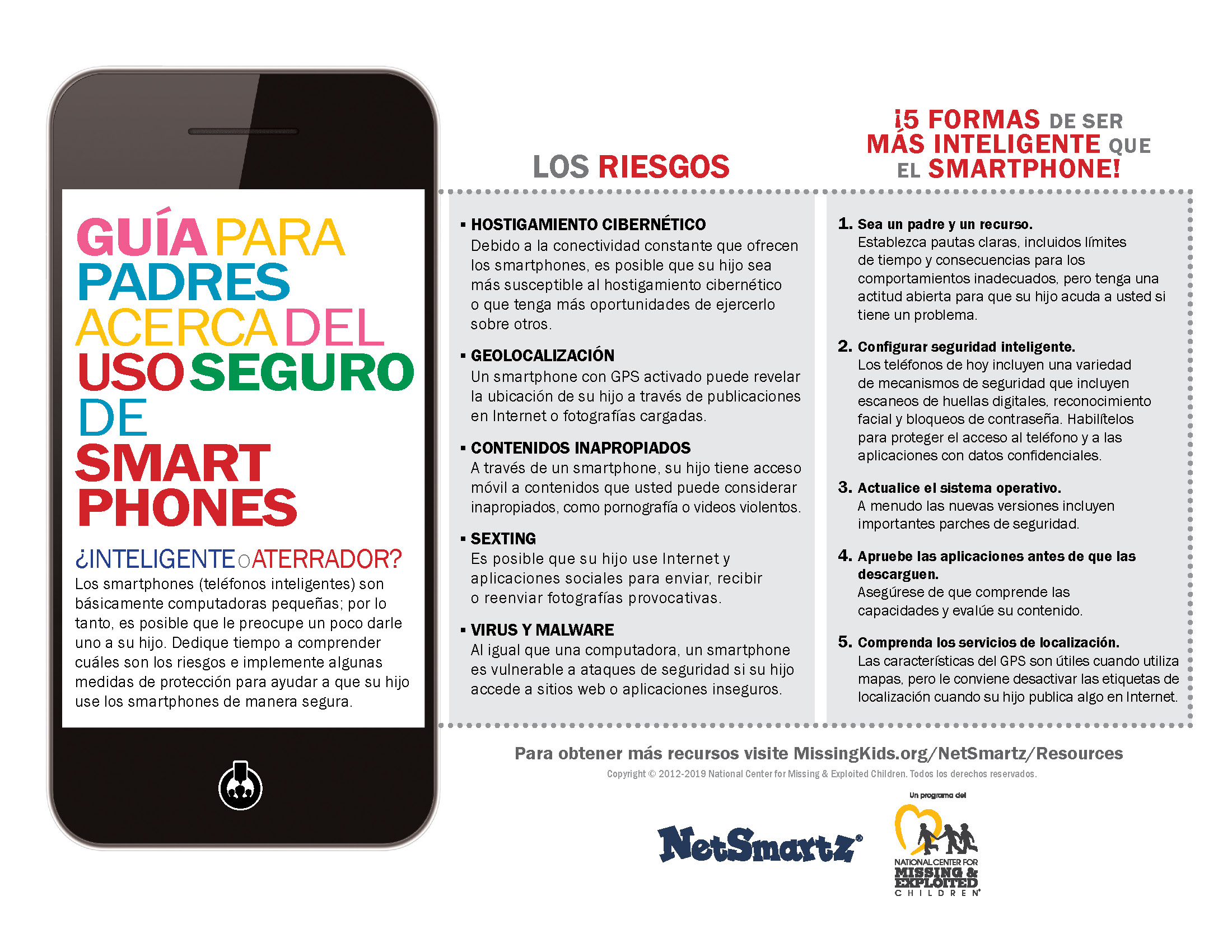 Guía para padres sobre la seguridad de los teléfonos inteligentes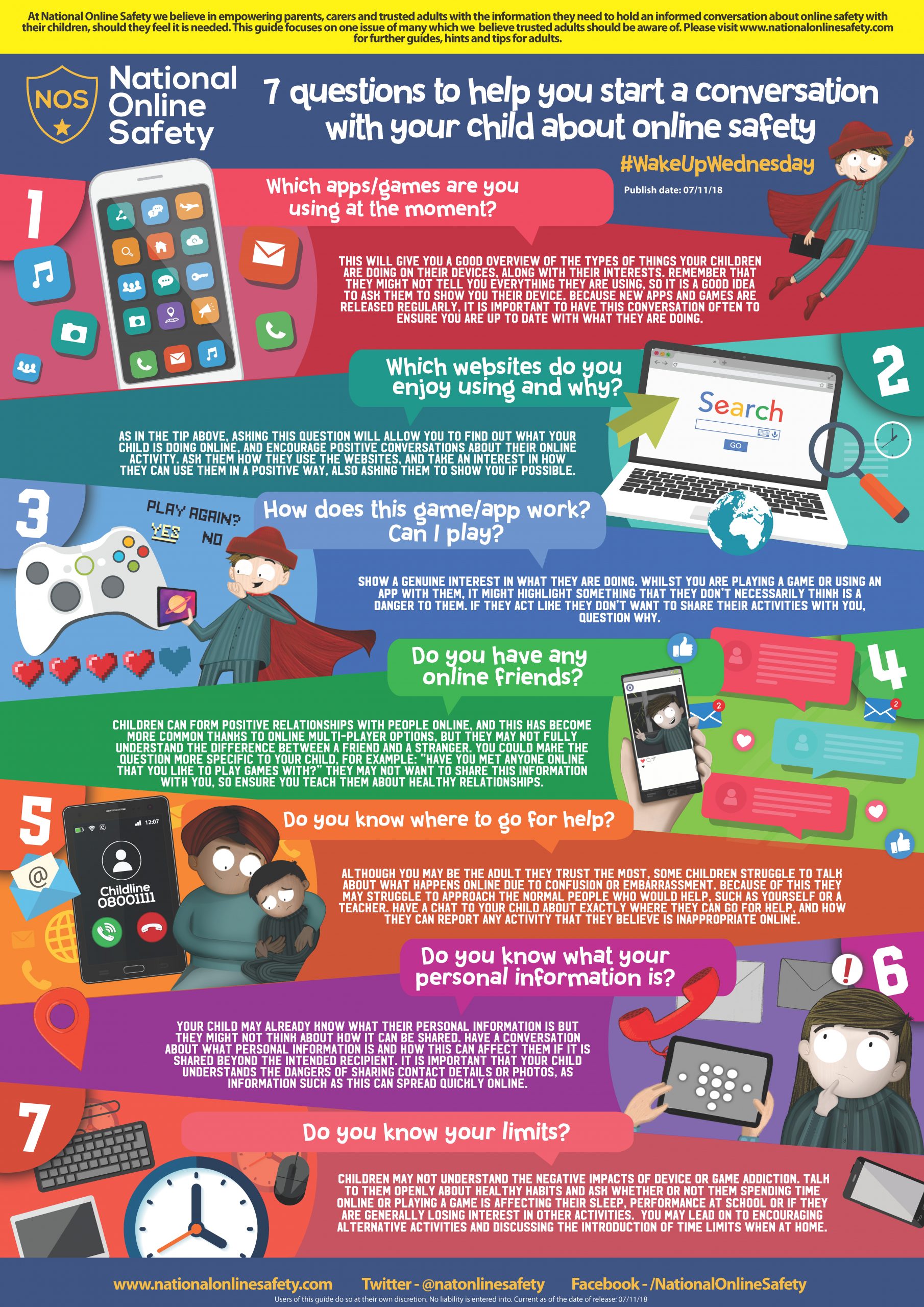 7 Questions for Parents
7 questions to help you start a conversation  with your child about online safety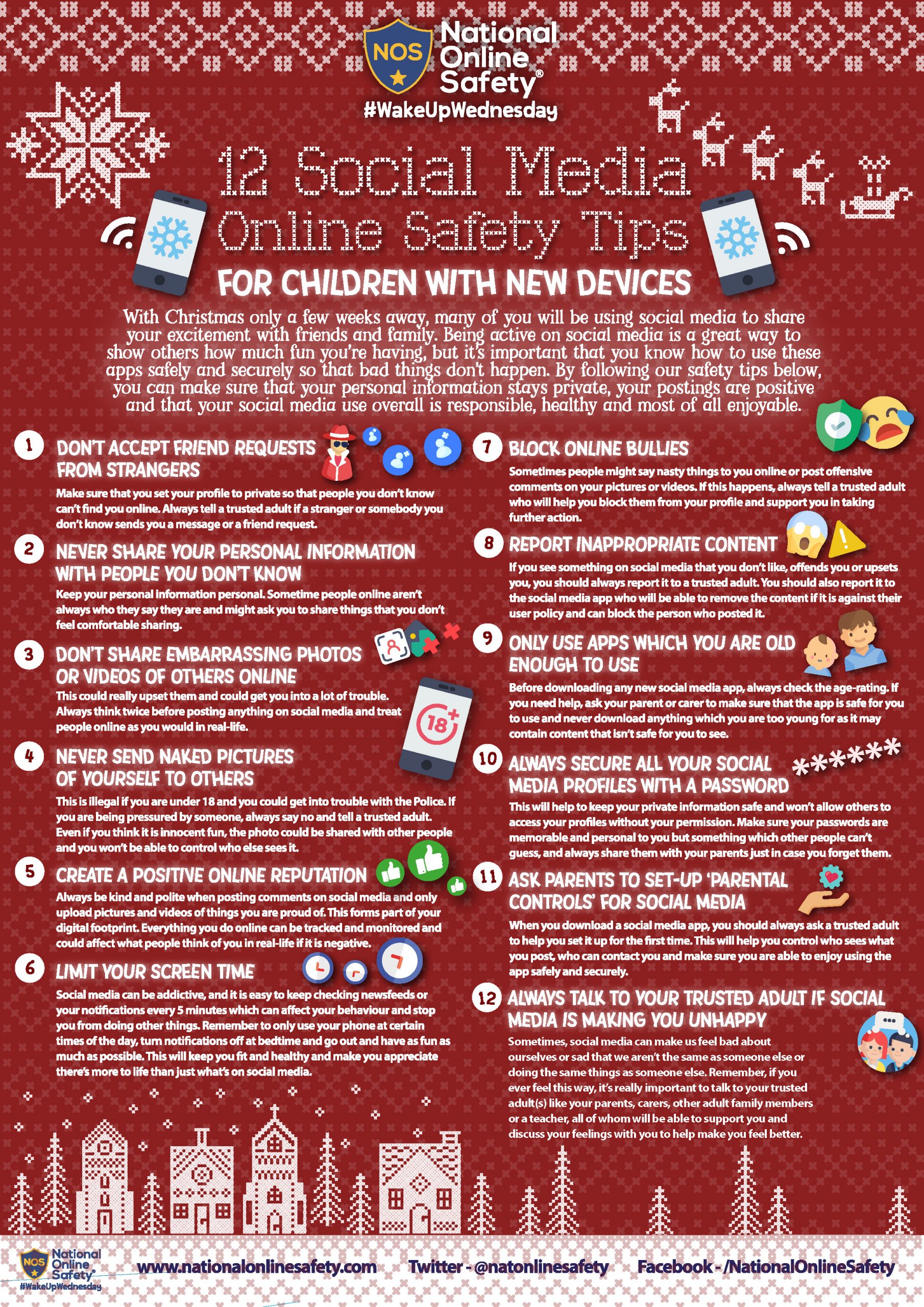 123 Social Media
12 social media online safety tips for children with new devices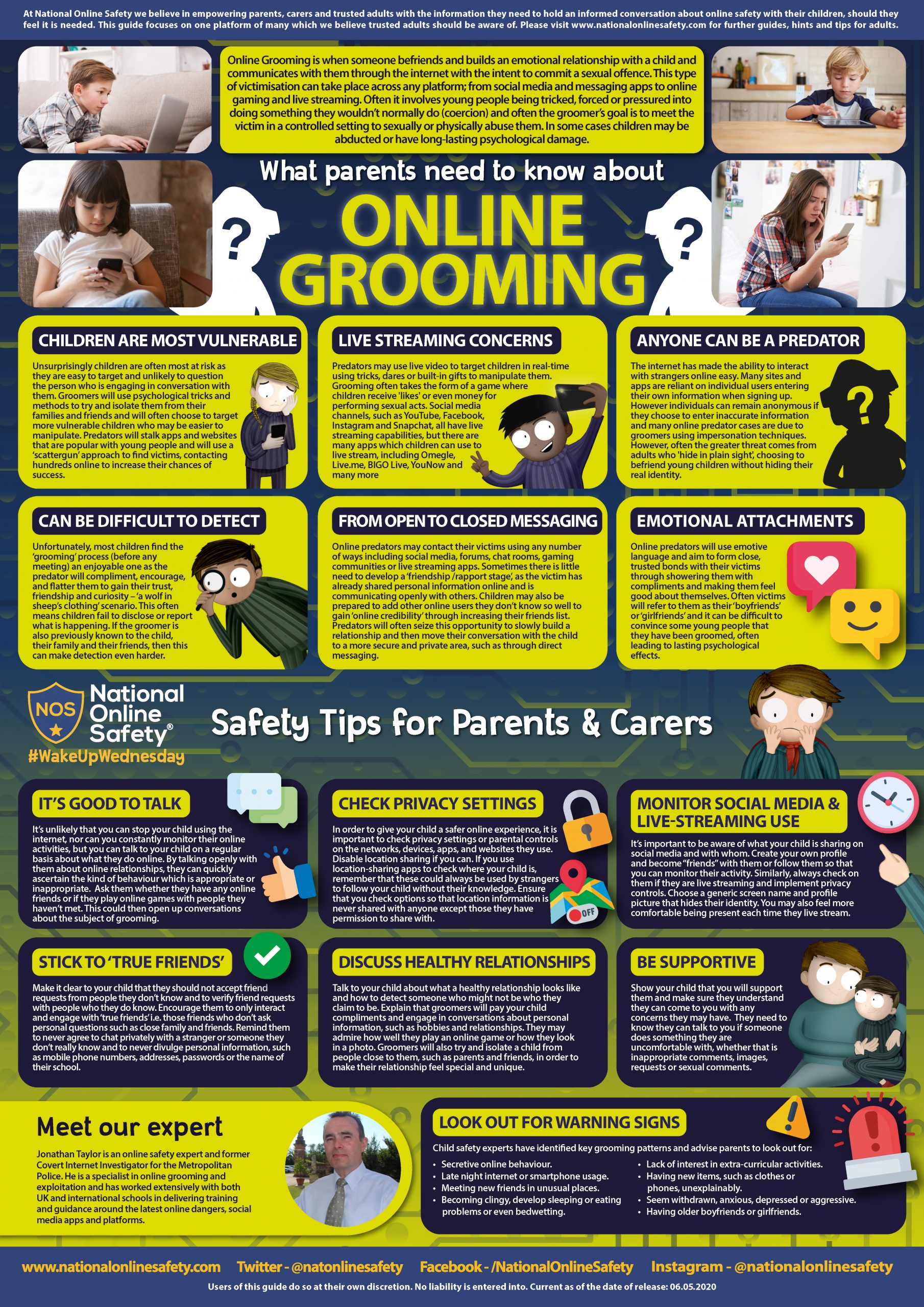 Online Grooming
What parents need to know about online grooming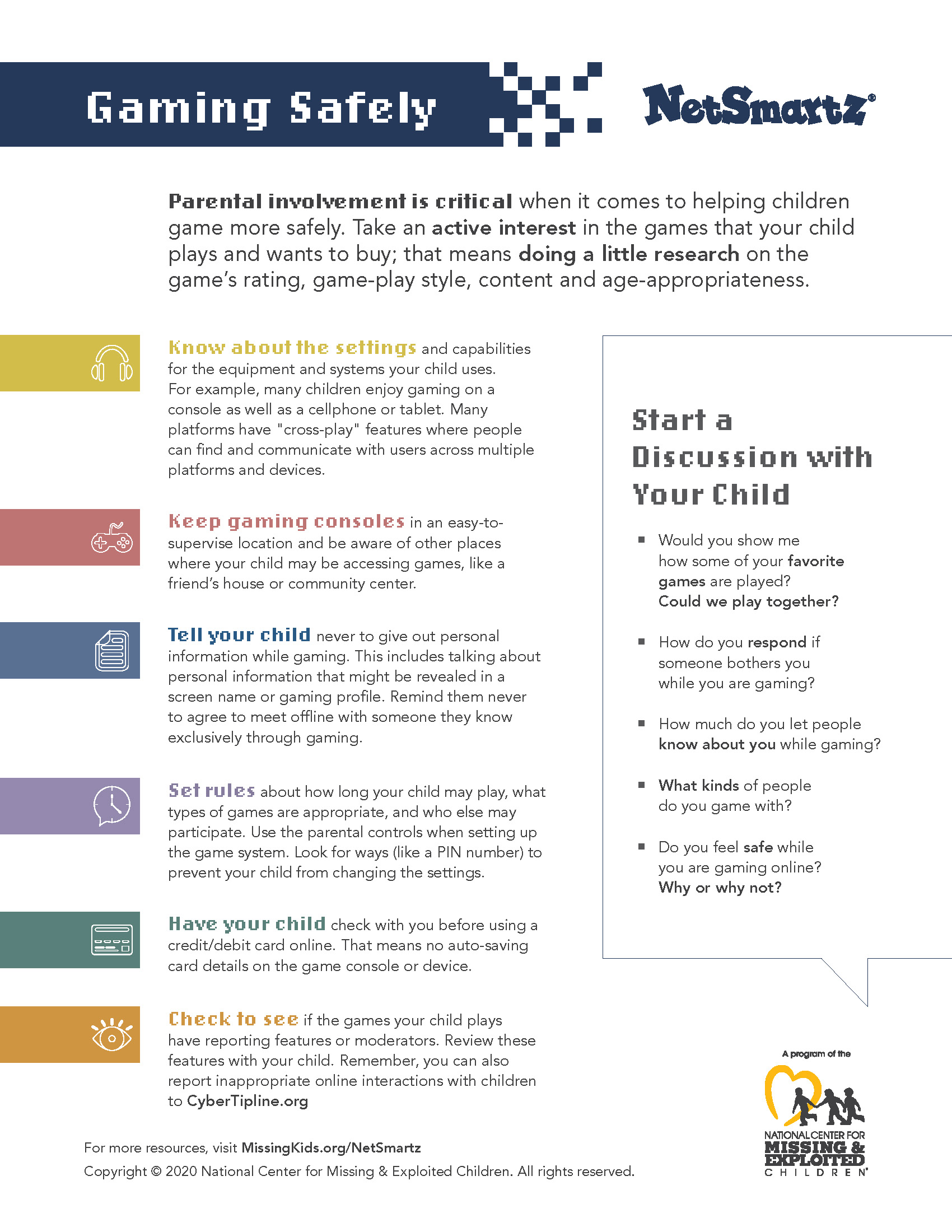 Gaming Safely
Parental involvement is critical when it comes to helping children game more safely. Take an active interest in the games that your child plays and wants to buy; that means doing a little research on the game's rating, game-play style, content and age-appropriateness.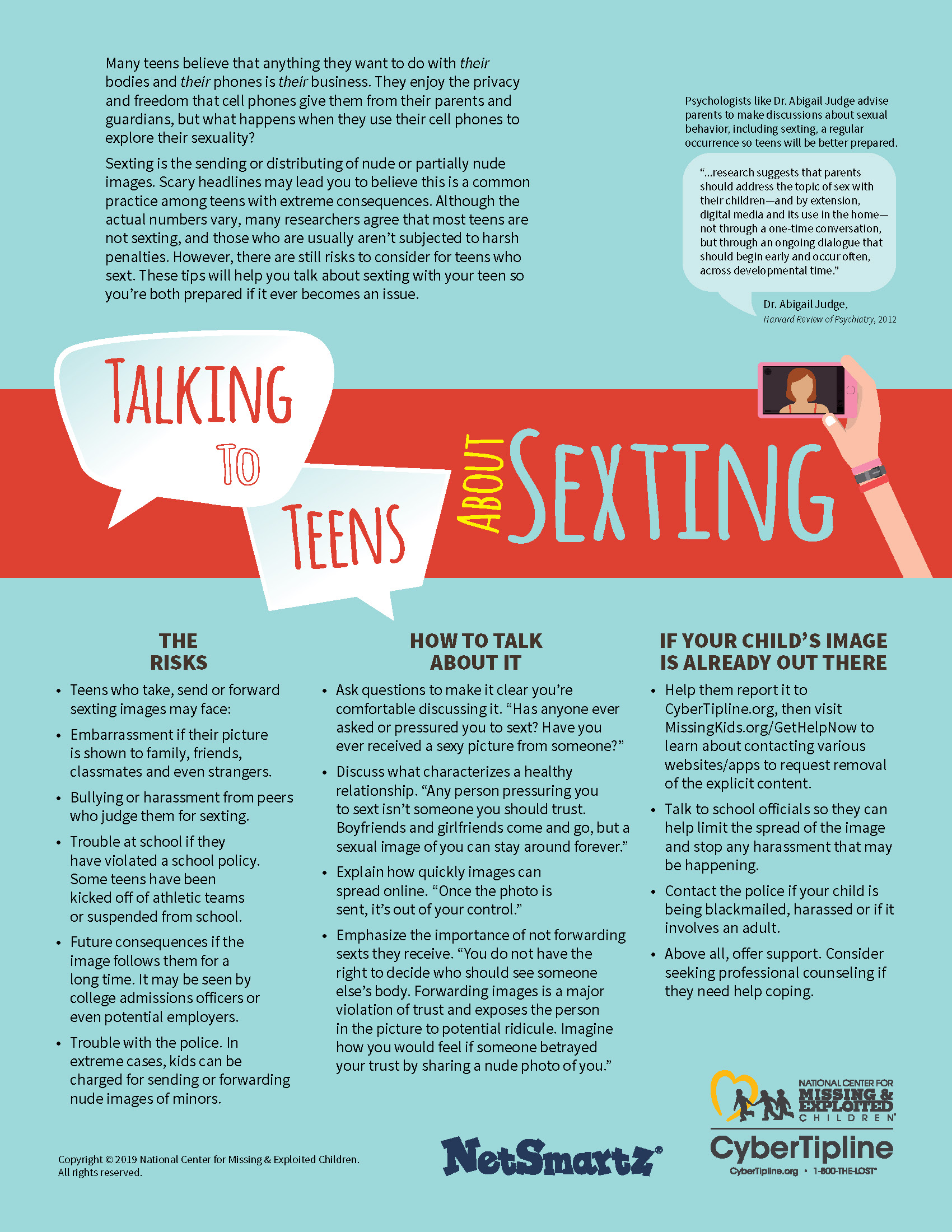 Talking to Teens About Sexting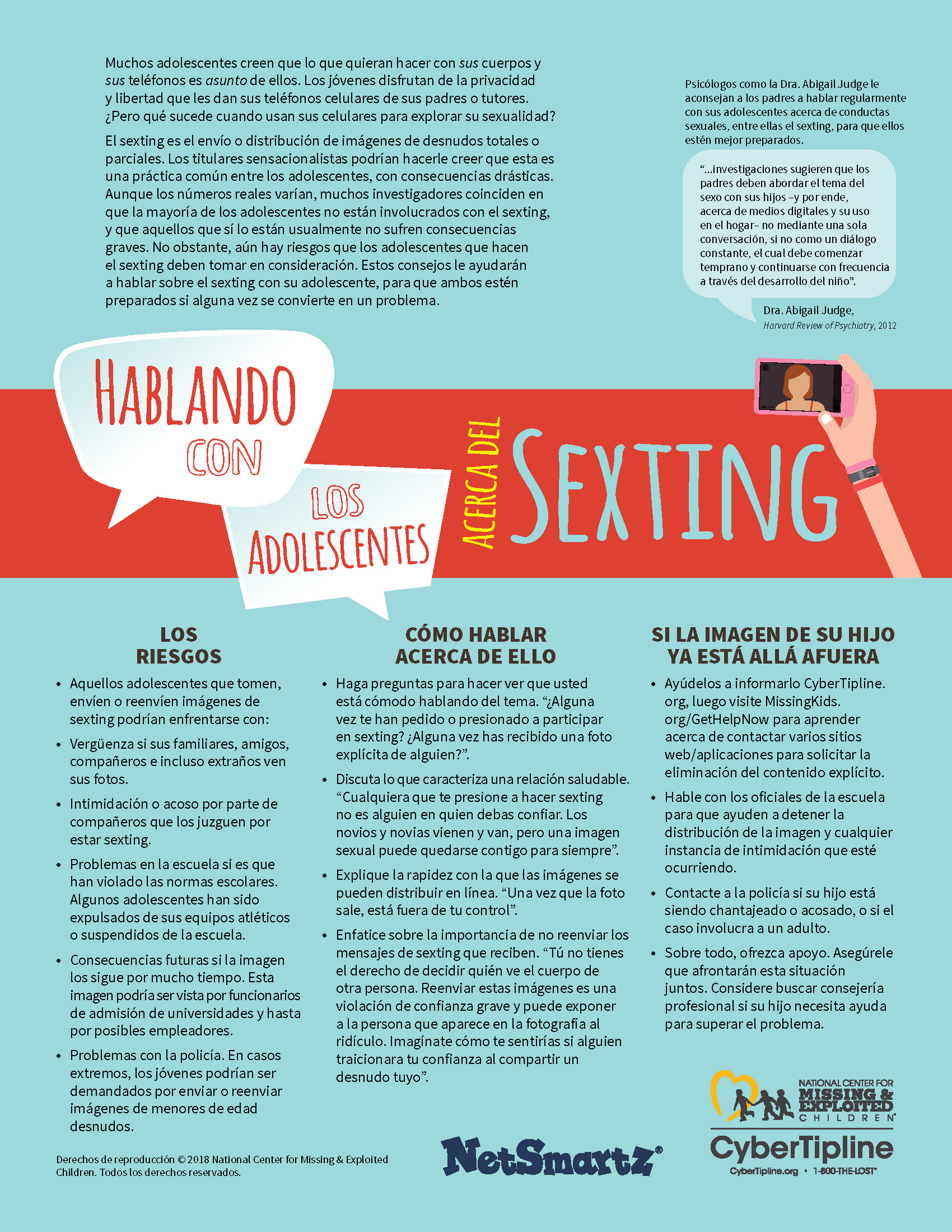 Hablando con los adolescentes sobre sexting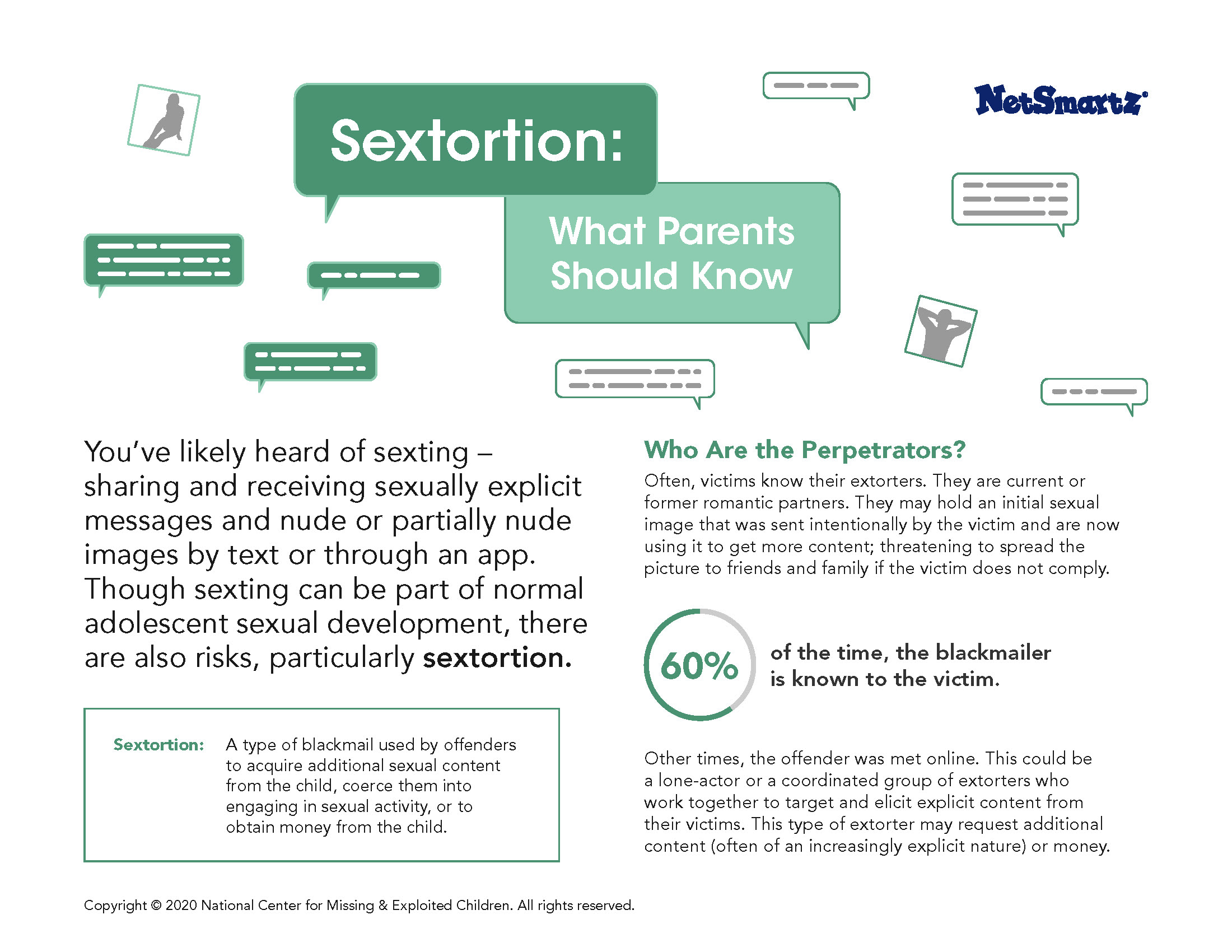 Sextortion: What Parents Should Know
You've likely heard of sexting – sharing and receiving sexually explicit messages and nude or partially nude images by text or through an app. Though sexting can be part of normal adolescent sexual development, there are also risks, particularly sextortion.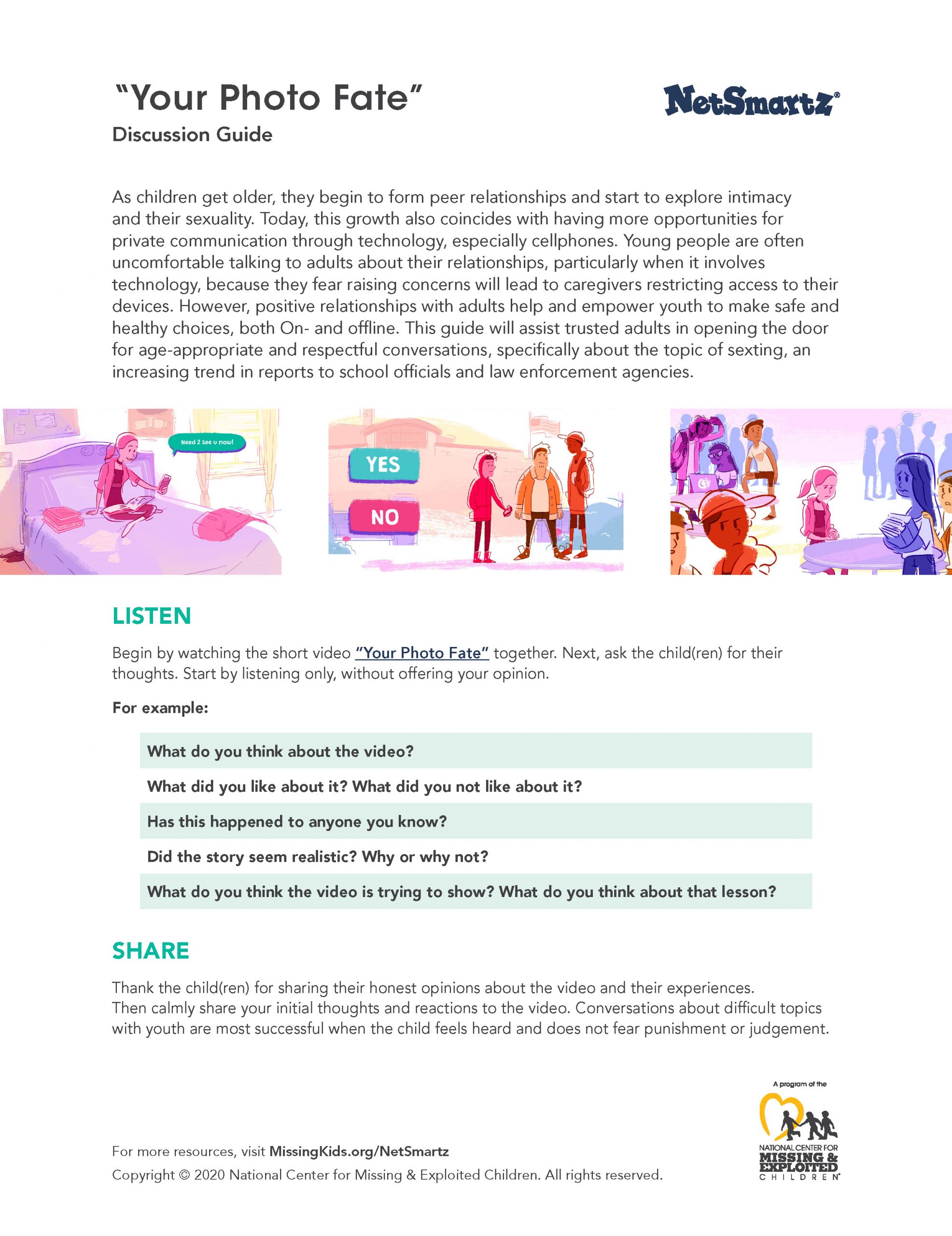 Your Photo Fate Discussion Guide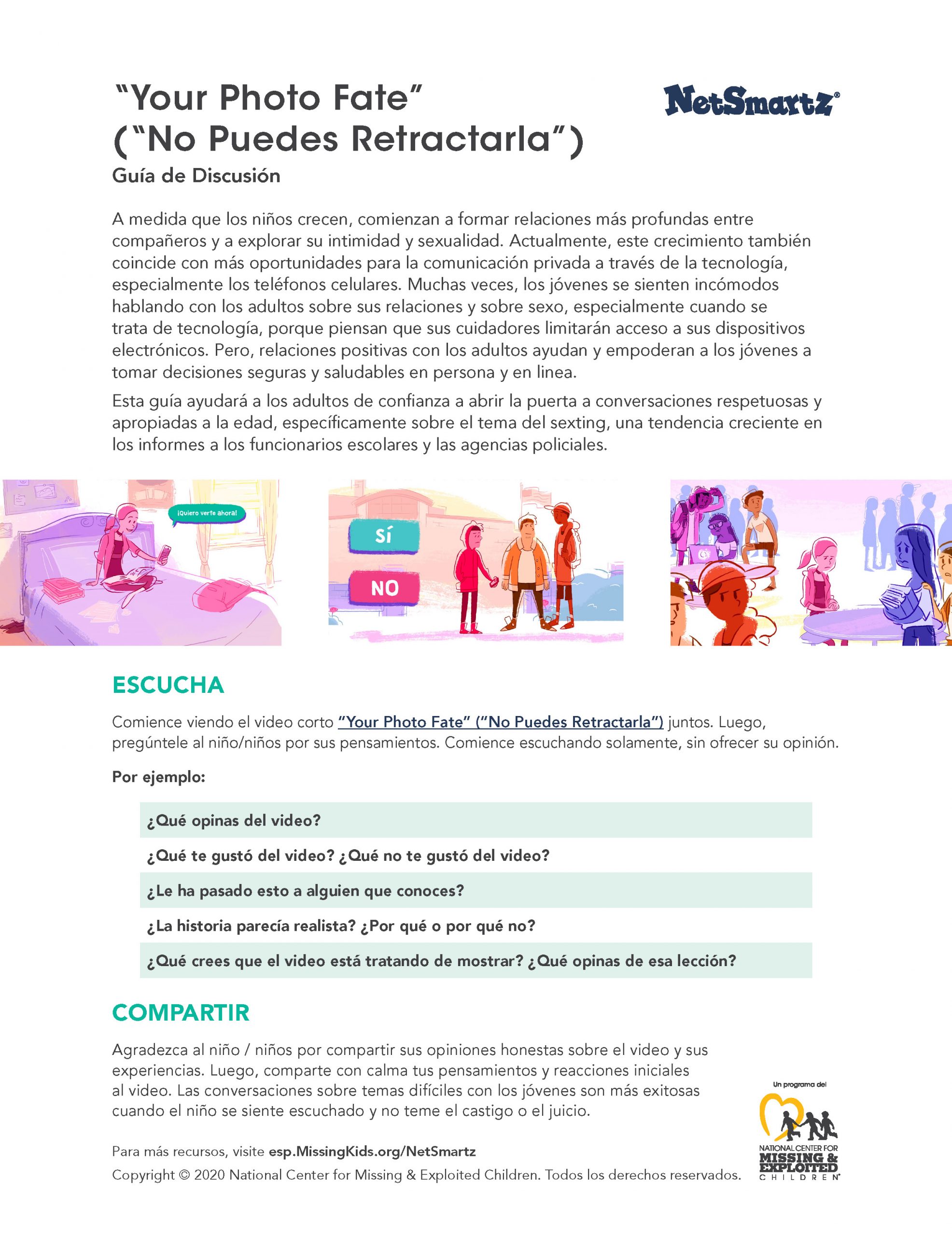 Tu guía de discusión sobre el destino de la foto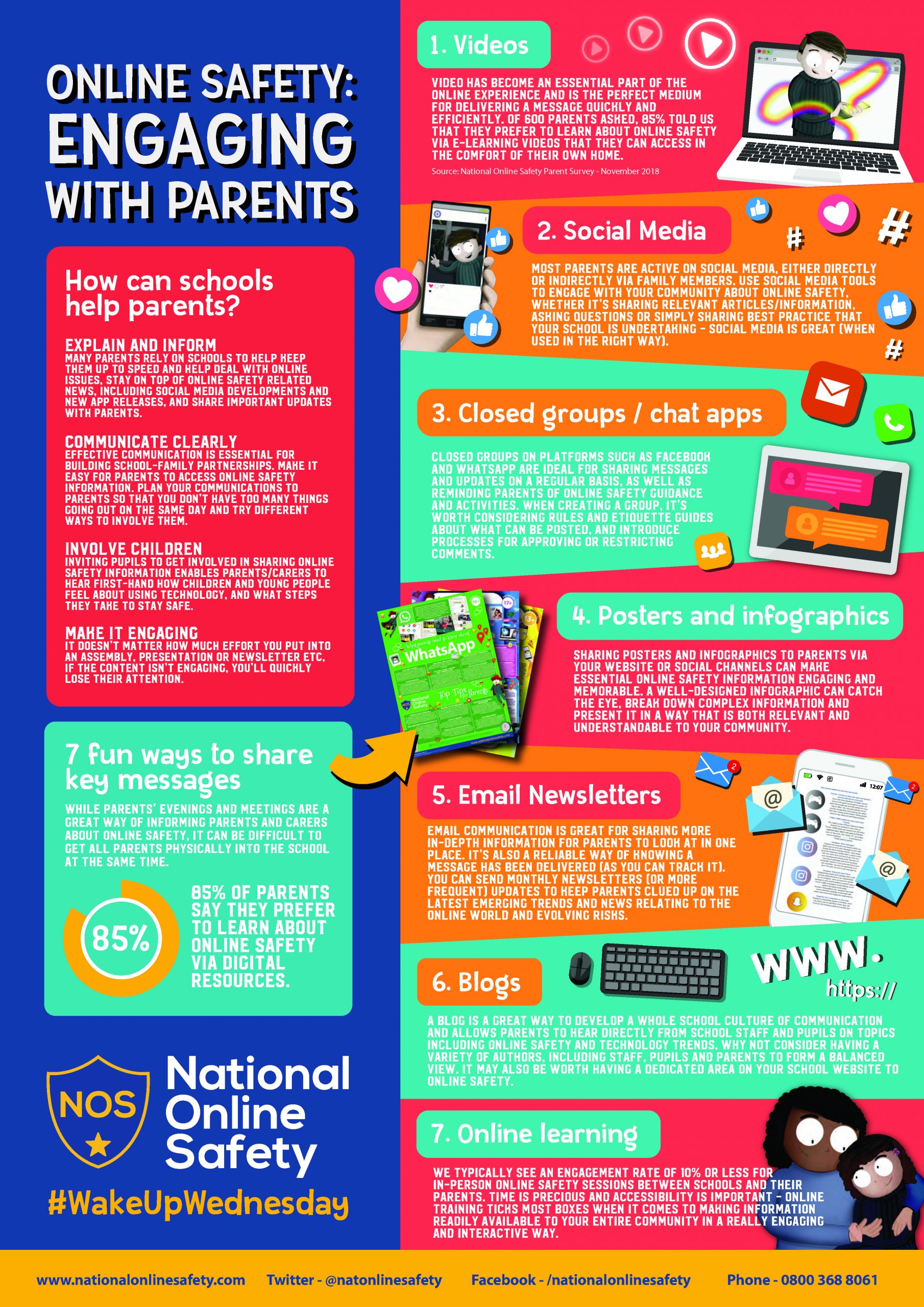 Online Safety: Engaging with Parents
The App Store
What parents need to know about the app store
Grooming – Precautions for Parents & Staff
– Talk to your Teen
It's unlikely that you can stop your child using the internet, nor can you constantly monitor their online activities, but you can talk to your child on a regular basis about what they do online. By talking openly with them about online relationships, they can quickly ascertain the kind of behavior, which is appropriate or inappropriate. Ask them whether they have any online friends or if they play online games with people they haven't met. This could then open up conversations about the subject of grooming.
– Check Privacy Settings
In order to give your child a safer online experience, it is important to check privacy settings or parental controls on the networks, devices, apps, and websites they use. Disable location sharing if you can. If you use location-sharing apps to check where your child is, remember that these could always be used by strangers to follow your child without their knowledge. Ensure that you check options so that location information is never shared with anyone except those they have permission to share with.
– Monitor Social Media & Live-Streaming use
It's important to be aware of what your child is sharing on social media and with whom. Create your own profile and become "friends" with them or follow them so that you can monitor their activity. Similarly, always check on them if they are live streaming and implement privacy controls. Choose a generic screen name and profile picture that hides their identity. You may also feel more comfortable being present each time they live stream.
– Stick to True Friends
Make it clear to your child that they should not accept friend requests from people they don't know and to verify friend requests with people who they do know. Encourage them to only interact and engage with 'true friends' i.e. those friends who don't ask personal questions such as close family and friends. Remind them to never agree to chat privately with a stranger or someone they don't really know and to never divulge personal information, such as mobile phone numbers, addresses, passwords or the name of their school.
– Discuss Healthy Relationships
Talk to your child about what a healthy relationship looks like and how to detect someone who might not be who they claim
to be. Explain that groomers will pay your child compliments and engage in conversations about personal information, such as hobbies and relationships. They may admire how well they play an online game or how they look in a photo. Groomers will also try and isolate a child from people close to them, such as parents and friends, in order to make their relationship feel special and unique.
– Be Supportive
Show your child that you will support them and make sure they understand they can come to you with any concerns they may have. They need to know they can talk to you if someone does something they are uncomfortable with, whether that is inappropriate comments, images, requests or sexual comments.
Child safety experts have identified key grooming patterns and advise parents to look out for:
Secretive online behavior.
Late night internet or smartphone usage.
Meeting new friends in unusual places.
Becoming clingy, developing sleeping or eating problems or even bedwetting.
Lack of interest in extra-curricular activities.
Having new items, such as clothes or phones, unexplainably.
Seem withdrawn, anxious, depressed or aggressive.
Having older boyfriends or girlfriends.